La Supervivencia del que mejor se adapte: Durante y Después del COVID-19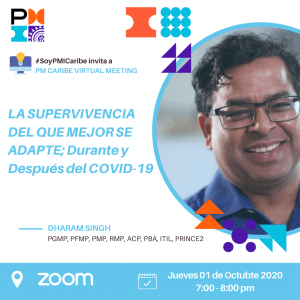 The COVID-19 pandemic has brought countries and governments to a standstill. Global Economy has been severely hit, and several businesses are shifting online entirely by changing their business models. Since WHO declared the COVID-19 pandemic, projects have been impacted globally.
It is a real challenge for a PMO to sustain in this worse situation. Even before the pandemic times – shifting project goals, delays in approvals, accidents, floods, were wreaking havoc. And when we think we have managed them all, COVID-19 pandemic has come up to test our mettle. A healthy PMO should be ready to provide an immune response and exhibit its ability to adapt to the given situation and withstand itself to better times.
Witnessing Black swan events like this, we can realize just how unprepared were we to face this crisis. Darwin has rightly stated, "It is not the strongest of the species that survives, nor the most intelligent that survives. It is the one that is most adaptable to change." Concerning the current COVID-19 pandemic the individual with the best immunity could be the "fittest". Adversity has always had a way of bringing out the best in us, as a species. The fittest organisms survive because they are special. We are Special!
In this session, I will be discussing the best way forward for the post-pandemic PMO. What are the immediate acts that PMO professionals must take up to prevent any further debacles and what are all the strategic steps that a PMO needs to adapt to achieve success in this "New Normal".
Please feel free to read and share this link https://www.linkedin.com/pulse/darwins-theory-relevant-now-more-than-ever-dharam-singh-ceo/
Dharam Singh is an award winning speaker, trainer and menter. Dharam is a leading PgMP, PfMP, PMP, PMI-RMP trainer. Dharam has over 27 years experience in the IT, Telcom, Government, Banking and Insurance industries as a Project and Program Management professional. Dharam has held various leadership roles in Project Management Institute's Sydney Chapter.
Conoce más de nuestro invitado super especial AQUI
Agendate y Asiste a esta oportunidad de conocer un reconocido speaker a nivel internacional!
Cosas Buenas Pasan cuando te involucras con PMl!
Lugar del evento
100% Virtual
Zoom
Días
Horas
Minutos
Segundos